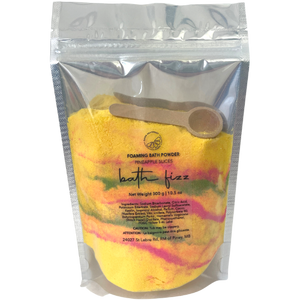 Green Grapefruit Soaps
Pineapple Slices Bath Fizz
Regular price
$9.00
$0.00
Unit price
per
A blend of fresh pineapple with freshly picked cilantro.

Ingredients

Sodium bicarbonate, Citric acid, Potassium bitartrate, Sodium lauryl sulfoacetate, Kaolin, Isopropyl alcohol, Parfum, Cocos nucifera extract, Vitis vinifera, Polysorbate 80, Butyrospermum parkii (shea) butter, Hamamelis virginiana (Witch Hazel) distillate, Phenoxyethanol, FD&C Yellow No. 5 Dye

EN: Baking soda, Citric acid, Cream of tartar, Sodium lauryl sulfoacetate, Kaolin clay, Isopropyl alcohol, Fragrance, Coconut milk, Grapeseed oil, Polysorbate 80, Shea butter, Witch hazel distillate, Colourants

FR: Bicarbonate de soude, Acide citrique, Crème de tartre, Sulfoacétate de lauryl de sodium, Argile kaolin, Alcool isopropylique, Parfum, Lait de coco, Huile de pépins de raisin, Polysorbate 80, Beurre de karité, Distillat d'hamamélis, Colorants

All our soap is vegan and palm oil free.

Please know that design, colour, and net weight may vary due to the handmade nature of our products.
---